Tweet
Keywords for this topic
nokia, touch, planen, steuerung, soll, mit, smartphone, phone, voraussichtlich, moment, konkurrenten, smartphones, bieten, microsoft, windows
In letzter Zeit gibt es wieder einige Gerüchte zu neuen Windows Phones von Nokia. Nach den Informationen von @evleaks sollen die Smartphones mit den Codenamen Goldfinger und Moneypenny Nokias ersten Windows Phone 8.1 (aka Windows Phone Blue) Smartphones sein, welche die Lumia Serie erweitern würden.
@evleaks (@evleaks) November 14, 2013 wrote:Nokia Goldfinger and Moneypenny are shaping up to be the first Windows Phone Blue devices.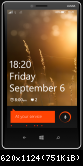 Nach den Informationen von The Verge soll Goldfinger das Flaggschiff der beiden Smartphones sein und eine 3D-Touch-Steuerung bieten. Nokia soll an dieser Technik seit mehreren Jahren arbeiten. Die Technik ist vergleichbar mit "Air Gestures" beim Samsung Galaxy S4. Welche Funktionen Nokia genau bieten wird ist bisher noch nicht bekannt.
Erwartet werden die neuen Smartphones zum Mobile World Congress 2014 (MWC). Microsoft ist im Moment dabei die Arbeiten an Windows Phone 8.1 abzuschließen und wird Windows Phone 8.1 voraussichtlich beim Mobile World Congress 2014 vorstellen. Erwartet wird ein Notification Center, verbessertes Multitasking und einen Siri-Konkurrenten mit dem Codenamen Cortana.
Quelle:
The Verge
Mfg Thomas
Administrator


Users Information Users Information
---
Tweet
Who is online
Users browsing this forum: No registered users and 1 guest
Who is online
Users browsing this forum: No registered users and 1 guest

Search / Mark
User Control Panel