Tweet
Keywords for this topic
microsoft, für, ein, developer, stellt, von, support, apps, can, for, tests, december, center, app, windows
Nachdem am 14.10.2014 bereits der Mainstream Support von Windows Phone 7.8 geendet ist, soll es nach dem 31. Dezember 2014 nicht mehr möglich sein, Windows Phone 7.x Geräte für App-Tests zu entsperren.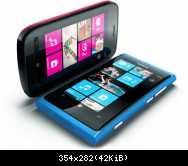 Dies kündigte Microsoft in einer Rundmail an:
After December 31, 2014, no Windows Phone 7.x unlock capabilities will be available. This means, for those of you who have not unlocked your Windows Phone 7.x device, testing of apps directly from Visual Studio on that device will no longer be possible. However, app testing can still be done on other unlocked phones, or via the Windows Phone Emulator, or by submitting beta apps through the Windows Dev Center.
Mfg Thomas
Administrator


Users Information Users Information
---
Tweet
Who is online
Users browsing this forum: No registered users and 3 guests
Who is online
Users browsing this forum: No registered users and 3 guests

Search / Mark
User Control Panel